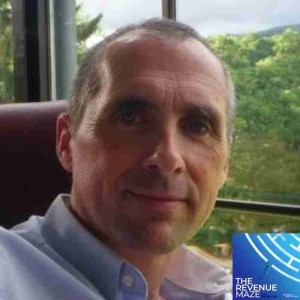 Wednesday Sep 21, 2022
Don't be a Bottleneck - Graeme Scott-Dodd - The Revenue Maze - Episode # 026
This week's guest is a highly skilled innovator. Graeme Scott-Dodd is the CEO at Action Insight Management (AiM). Graeme brings his insights on how to grow profit in your business and talks with the host Valerie Cobb. Listen in this week, to hear Graeme's amazing tips and trick on improving your companies revenue.
Takeaways:
Make sure to figure out what you are trying to strive for in your company.  Try to narrow down your wants and focus on your needs to make your business skyrocket above other competitors.

With your company, make sure you prioritize the clients that are helping your business grow but be sure to fix the ones that may have fallen through. Utilize the lost opportunities for any new clients.

To keep a consistent amount of investments coming in, you have to be able to show your category growth in the company to future investors.

Make sure you know what your needs and wants are for your company because if you make the wrong move and decide to go head first into something you don't know, you could be losing a lot of money and not getting the results you'd hoped in order for your company to improve. You would only be digging yourself further down.

If your company's total profit is higher than your average goal, then you don't need to be promoting yourself. If customers already know your brand name, then don't promote it. Promoting is what will be costing your company money, which will eventually leave you broke. 

There's a difference between the need to know and the want to know. People always get caught up in the want to know rather than the need. People would rather just get any form of information rather than focusing on what they actually need. 

If you drop the price at your company and you will sell more which means more total profit comes into your business. But if you've given away all of your margin because you are paying for all of that promotion, you may sell a lot, but your profit may go down in the process.
Quote of the Show:
"So what are you chasing? Is it volume? Is it revenue? The key thing most businesses are now moving to is profit, because, without the profit, you can't survive. All the other things lead to that profit." (03:04)
Links
Ways to Tune In

The Revenue Maze is produced by Ringmaster, on a mission to create connections through B2B podcasts. Learn more at https://ringmaster.com/